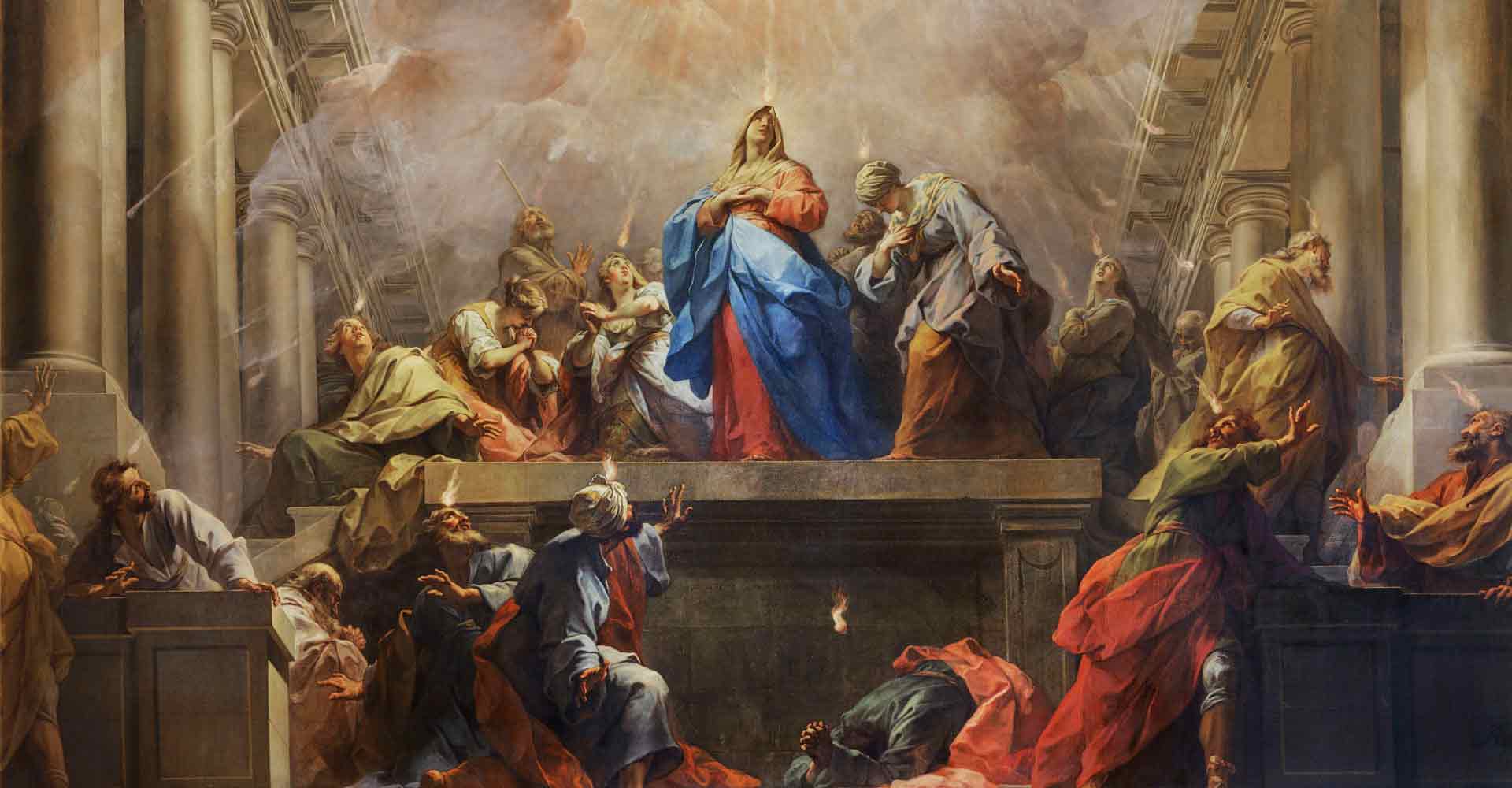 Pentecost and the gift of the Spirit. The infusion of the Holy Spirit constitutes in a real way an immediate entry into eternal life; for by virtue of the indwelling Spirit the Christian shares in God's own divine nature.
By Deacon Frederick Bartels
25 May 2012
St. Cyril of Alexandria noted that after Christ's completion of his mission on earth it still remained necessary for us to become sharers in the divine nature of God. We have "to give up our own life," he wrote, "and be so transformed that we would begin to live an entirely new kind of life that would be pleasing to God." This becomes possible by the gift of the Holy Spirit.
What does this entirely new kind of life entail? It is life in the Spirit; a life in which we are re-created anew, given a new purpose and perspective, and thus are joined to an astonishingly beautiful destiny: through the supreme gift of the Spirit, a divine and human kiss of intimate love, we are swept up into the divine life of the Holy Trinity, become members of the divine family, and immediately enter in a real way into life eternal—not later, not "some day," but now and in the present. Although this entry into heavenly life is, of course, not yet fully realized here on earth, we are nonetheless drawn, through the indwelling Spirit whose love permeates the soul with supernatural radiance and light, into eternal life.
Calling our attention to Vatican IIs Lumen Gentium, which states that the "promised restoration which we are awaiting has already begun in Christ" (48), Benot-Dominique de La Soujeole writes of the nature of Christian life on earth:
Eternal life has already begun. After death, at the definitive entry into God's glory, it is not another life that will begin; rather, we will find the fulfillment of the life given us to live here on earth. (Vatican II: Renewal Within Tradition 44)
There is a caveat, however. As St. Cyril noted, we "have to give up our own life." In loving God for his own sake, it is necessary to abandon an inappropriate love of self in favor of love of the highest and greatest Good: God. Here we give ourselves over, completely and forever, to the Spirit: he becomes our true love. The indwelling Spirit is then cherished as our sustenance and energy and very life-source. In such an attentive gaze of love, we "walk by the Spirit," which means we are cautious not to "gratify the desires of the flesh," since the Spirit and the flesh are opposed to each other (Gal. 5:16). St. Paul is not, of course, suggesting that the human body is anything less than good; on the contrary, it is good because God made it. But it is crucial to understand the desires of the flesh are often set against the Spirit (Gal. 5:17).
Further, St. Paul reminds us that those who belong to Christ "have crucified their flesh with its passions and desires" (Gal. 5:24). This is first understood in light of the sacrament of Baptism, in which Christians are incorporated into Christ and receive the gift of the Spirit, and therefore share in the saving death of Jesus. Yet there is another dimension to what Paul is saying: those who follow Christ and have received the gift of the Spirit are to make the flesh subordinate to the movements of the Spirit. That is, Christians are to "crucify" or put to death the disordered desires of the flesh which conflict with not only the divine impulses of the Spirit but with his infinite goodness and holiness as well.
The Earthly War Between Flesh and Spirit
It is crucial to analyze our familiarity with the war between flesh and Spirit. That is, have we walked on to the battlefield and taken up the sword? Or, on the other hand, does the field of battle remain an unknown land due to our constant lack of participation? If we have not answered the call to holiness, if we are unfamiliar with the difficulties involved in "crucifying" the flesh, perhaps we have refused to march on to the field. Perhaps, instead of taking up arms, we have fled from this serious and important engagement.
Practically speaking, what are some things Catholics and other Christians can do in order to foster greater control over the flesh, which is integral to a life of holiness? First, we must give ourselves over entirely to the Spirit and rely in hope on God. But that is not to suggest inaction or even prayer only. On the contrary, there are tasks set before us. It is crucial to enter fully into the womb of mother Church and lead a sacramental life in Christ, that we may receive the life-giving grace of the sacraments, especially the Eucharist. So important is receiving Christ's body, blood, soul and divinity in the Eucharist that our Savior himself said: "Truly, truly, I say to you, unless you eat the flesh of the Son of man and drink his blood, you have no life in you" (Jn 6:53).
Life In The Womb of The Church
It is a mistake to attempt to embark on a life of holiness while in disregard of the Church who Christ himself instituted as the sacrament of salvation, and in whose nourishing womb we receive the words of truth and the sacraments of life, for to knowingly do so is to some degree an attempt to rely upon ourselves rather than on what God himself has given us by his good favor. It is not unlike saying to the Spirit: "I want your gifts, but not all of them." Here we come face to face with the fact that, while salvation is a free gift from God, we must appropriate the salvific sacrifice of Christ on the cross to ourselves by responding to the Spirit and following Christ: this entails governing our way of life and actions according to what God has revealed. And God most certainly has revealed the necessity of the Church.
The sacramental life in the Church is a life of unceasing prayer in the Spirit, in which one relies in trusting hope upon Christ's unfailing mercy. In the arms of the Spirit, we can then proceed confidently, secure in the knowledge of God's supreme goodness and infinite love. It is in humble, free and loving submission and obedience to the Spirit that, by his gifts of grace, we are truly empowered to accomplish all things according to God's will. It is by the Spirit that we are healed, our human nature elevated, and we are bestowed with the ability to act in ways proper only to God, as we truly share in his superabundant divine life.
Voluntary and Innocent Suffering
And there is more. In order to conquer the flesh, it is important to engage in voluntary and innocent acts of suffering for Christ. After all, that is what Christ himself did for our sake, when, in an incomparable display of love, he subjected himself to unimaginable brutality and suffering in his Passion and Death on the cross for the redemption of humankind. Jesus said: "Whoever serves me must follow me" (Jn 12:26). Words from God himself which we must apply to our lives.
There are innumerable ways in which we can engage in voluntary and innocent suffering. Doing so helps to bring about a new Pentecost within us. While these might at first seem trivial, never mind that, it is important to start small: if you like butter on your toast, forgo it; if you prefer a long, hot shower, keep it brief instead. Want to greatly enhance the effects? Have it cold! Praying the Rosary on one's knees, fasting, abstaining from pleasures, serving the poor and consoling the outcast; all of these strengthen the human spirit and will, fostering our ability to force the flesh into subordination to the Spirit. It is all about training in self-mastery: an imperative exercise which is inseparable from the life of holiness to which every Christian is called.
As the Church reminds us, "everyone whether belonging to the hierarchy, or being cared for by it, is called to holiness, according to the saying of the Apostle: 'For this is the will of God, your sanctification'" (LG 39; 1 Thess. 4:3; Cf. Eph. 1:4). The Christian life of holiness is made possible by the Spirit, whose transformative and regenerative love, unsurpassed in greatness and glory, elevates men beyond their own nature and grants them a share in God's own divine life:
If we have given up our worldly way of life and submitted once for all to the laws of the Spirit, it must surely be obvious to everyone that by repudiating, in a sense, our own life, and taking on the supernatural likeness of the Holy Spirit, who is united to us, our nature is transformed so that we are no longer merely men, but also sons of God, spiritual men, by reason of the share we have received in the divine nature.

St. Cyril of Alexandria
Christ's peace.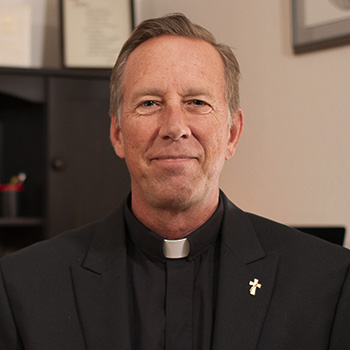 Deacon Frederick Bartels is a member of the Catholic clergy who serves the Church in the diocese of Pueblo. He holds an MA in Theology and Educational Ministry and is a Catholic educator, public speaker, and evangelist who strives to infuse culture with the saving principles of the gospel. For more, visit YouTube, iTunes and Google Play.