"Blessed are you when people revile you and persecute you and utter all kinds of evil against you falsely on my account. Rejoice and be glad, for your reward is great in heaven" (Mt 5:11).
By Lauren Heaton
5 July 2017
The Jews, however, incited the women of prominence who were worshipers and the leading men of the city, stirred up a persecution against Paul and Barnabas, and expelled them from their territory. So they shook the dust from their feet in protest against them and went to Iconium. The disciples were filled with joy and the holy spirit.

Acts 13:50-52
A few weeks ago a friend came to me, her voice pleading for some semblance of hope, asking, "Where are all the good guys? Will I ever find a man who loves God and loves me because I love God?" She was facing rejection at the end of a relationship. Rejection because she loves God and lives as a beloved follower of Christ.
Just two days before she came to me, a young man proclaimed to me his intense hatred of religion. I had fallen for this young man, and he was rejecting me because I believe in Jesus Christ. A weird combination of emotions overwhelmed me. Intense sadness and hurt of course, but there was also great joy. I pictured the apostles skipping joyfully away from people who scoffed at them, shaking the dust from their feet. This image softened my furrowed brows and lifted the weight of the hurt I was experiencing. I found joy in my suffering.
Jesus warned us the world would hate us because of him (John 15:18). He also instructed us to rejoice in the world's rejection of us just at the apostles did.
Blessed are you when they insult you and persecute you and utter every kind of evil against you falsely because of me. Rejoice and be glad, for your reward will be great in heaven.

Matthew 5:11-12
We could choose to focus on the pain of rejection, but I choose to rejoice because I have been found worthy to be rejected for love of Jesus Christ. This was not the first time I was rejected because of my faith and it will not be the last. Nevertheless, I will count it all as joy, as St. James says, because the more I learn about how to love others despite their rejection of Christ in me, the more I can encourage other lovers of Christ to do the same.
"I will say it again: rejoice!"
Philippians 4:4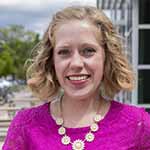 Lauren is a young Catholic professional working in the marketing industry. She loves working with high schoolers and leads a high school youth group. She is also passionate about leading a young women's bible study, is on the leadership team for West Denver 2:42 a young adult ministry and sings at her church. Lauren is a modest fashion enthusiast, pancake connoisseur, promoter of faith and fitness, and lover of all things family oriented.