"Perhaps we do not know what love is: it would not surprise me a great deal to learn this, for love consists, not in the extent of happiness, but in the firmness of our determination to try to please God in everything"— St. Teresa of Avila
By Virginia Fraguio
15 October 2018
Last year, I felt inspired to deepen my knowledge of St. Teresa of Jesus, a religious who founded the Discalced Carmelites in Spain in the 16th century. She was a bold reformer of the Carmelite Order, who did so in full obedience to the Catholic Church, teaching her nuns and millions of people across the centuries about prayer, spirituality, and mysticism. She was the first woman (along with St. Catherine of Siena) to be declared a Doctor of the Church (by Saint Pope Paul VI in 1970).
I traveled to Spain to her hometown of Avila where she was born in 1515 and later to Seville where she founded the Convent of San Jose in 1575. I arrived in Avila in May, an ideal weather greeted me. Soon I was out into this lovely picturesque town surrounded by the walls built back in medieval times. My first stop was the place of her childhood home where a beautiful Church – Iglesia de Santa Teresa – has been built. Inside the church, there is a mesmerizing large statue of Our Lady of Mt. Carmel right outside a little chapel.
After greeting the Blessed Sacrament at the main altar, I entered this little intimate chapel and sat down. My eyes soon were fixed on a dramatic statue of Teresa de Jesus whose expressive eyes looking upward appeared enthralled by God. Gradually, this imaginary dialogue began to flow in my mind and soul. Part of it is expanded here below with the help of her Spirit-filled writings.
Buenas tardes, Madre Teresa. Mother, I would like to ask you a few questions, if that is fine with you? Would you please teach me how you talk to Him, our Lord Jesus Christ? How can I get closer to Him?
O Lord of the world, my true Spouse! Are you so in need, my Lord and my Love, that you would want to receive such poor company as mine, for I see by your expression that you have been consoled by me? Let us walk together, Lord. Wherever you go, I will go; whatever you suffer, I will suffer. [1]

I'm not asking you now that you think about Him or that you draw out a lot of concepts or make long and subtle reflections with your intellect. I'm not asking you to do anything more than look at him. For who can keep you from turning the eyes of your soul toward this Lord, even if you do so for just a moment if you can't do more? In the measure you desire Him, you will find Him. He so esteems our turning to look at Him. [2]
In your view, what virtues are essential for a life with the Lord, a life of true prayer?
Oh, humility, humility!"[3] "There is no queen like humility for making the King surrender. Humility drew the King from heaven to the womb of the Virgin, and with it, we will draw him to our souls." [4] "Here humility can enter the picture because this virtue and the virtue of detachment, it seems to me, always go together. These are two inseparable sisters. You should embrace them and love them and never be seen without them. O sovereign virtues, rulers over all creation, emperors of the world, deliverers from all snares of entanglement laid by the devil, virtues so loved by our teacher Christ who never for a moment was seen without them! [5]

Those who have them [humility and detachment] can go out and fight with all hell together and against the whole world and all its occasions of sin. Such persons have no fear of anyone, for theirs is the kingdom of heaven. The only thing they fear is displeasing their God, and they beg God to sustain them in these virtues. [6]
Often people wonder about the contemplative and active life as personified in Mary and Martha on the Gospel (Luke 10:38-42). What are your thoughts on this, Mother?
Believe me, Martha and Mary must work together when they offer the Lord lodging and must have Him ever with them. How can Mary give him anything, seated as she is at his feet, unless her sister helps her? His food consists in our bringing Him souls, in every possible way, so that they may be saved and may praise Him forever. [7]

The Lord knows what each one is suited for, he gives to each person a proper task, one that he sees as appropriate for that person's soul, for the service of the Lord himself and for the good of neighbor. And if you have done what you can to be prepared, do not fear that your effort will be lost. Keep in mind that I say we should all try to be contemplatives. [8]

We must be like soldiers who even though they may not have served a great deal, must always be ready for any duty the Captain commands them to undertake. You should be happy in what you are commanded to do. And if this humility is true, blessed be such a servant in the active life. [9]

Let others fight their own war, which is not small. Even though the standard-bearer doesn't fight in the battle, he doesn't for that reason fail to walk in great danger; and interiorly he must do more work than anyone. Since he carries the flag, he cannot defend himself. So it is with contemplatives: they must keep the flag of humility raised and suffer all the blows they receive without returning any. Their duty is to suffer as Christ did, to hold high the Cross, not to let it out of their hand whatever the dangers they see themselves in, nor let the weakness in suffering be seen in them. Contemplatives must be careful about what they are doing, for if one lets go of the flag the battle will be lost. [10]
The next day I traveled by train from Avila to Seville via Madrid, not as uncomfortably as Teresa of Jesus who overcame great trials in her foundation of the Convent of San Jose. She did so in humble obedience to her spiritual father and superior Fr. Jerome Gracian, against her own wishes, as "he thought that a foundation in Seville would render great services to God." [11] Let's read about the ordeals endured by her and her nuns, as described in the words of this mystic contemplative and active woman who exemplified a rare combination of humility and courage, detachment and practicality, joy in tribulation, fervent piety and sense of humor.
Preparations were immediately begun for the journey because it was beginning to get very hot. We journeyed in wagons well covered, which was our mode of traveling, and when we reached an inn we took whatever room was available, good or bad. And one Sister received what we needed at the door, for not even those who journeyed with us entered the room. Although we hurried along on our journey, we did not reach Seville until the Thursday before Trinity Sunday, after having endured scorching heat. Even though we did not travel during siesta time, I tell you that since the sun was beating on the wagons, getting into them was like stepping in purgatory. Sometimes by thinking of hell, at other times by thinking that something was being done and suffered for God, those Sisters journeyed with much happiness and joy. [12]
I arrived in Seville in the evening, rested and cool, unlike our beloved Saint and her nuns. The entrance to the convent of San Jose is located in the Casco Antiguo (ancient district) of the city. As I walked towards it, my heart beat as loudly as the wheels of my suitcase hit the old cobblestone-paved street. I had not seen Sister Teresa Mitsue for forty years, since I was a child living in Japan. The next morning I attended Mass with the nuns, who still keep the traditional rule established by its founder Teresa de Avila almost five hundred years ago. They attend Mass and communicate with outsiders through a grid or turnstile.
Sister Teresa Mitsue and I met in the parlor through the grid. After converting to Catholicism, she had entered the Discalced Carmelite convent in Yamaguchi, Japan in 1980, and years later was transferred to San Jose in Seville. She instructed me to go to a small room next to the Chapel sacristy where the relics of "La Santa" (as they call Teresa of Avila in Spain) are securely displayed (see photo). Thus began the second imaginary dialogue between Mother Teresa de Jesus and myself – unworthy spiritual daughter, in desperate need of the living water of eternal wisdom she generously shares with all who turn to her in the love of Christ the Lord.
Madre Teresa, thank you for making this special time for me. I know we have a very short time, so I will only ask you one question: what is love?
Perhaps we do not know what love is: it would not surprise me a great deal to learn this, for love consists, not in the extent of happiness, but in the firmness of our determination to try to please God in everything, and to endeavor, in all possible ways, not to offend Him, and to pray Him ever to advance the honor and glory of His Son and the growth of the Catholic Church. The important thing is not to think much, but to love much; do then what arouses you to love. [13]

In the case of perfect love, if a person loves there is the passion to make the other soul worthy of being loved. It is a love that costs dearly. This person does everything possible for the other's benefit, would lose a thousand lives that a little good might come to the other soul. These persons understand that all love comes from Him." [14] "In a word…I will end by saying that we must not build towers without foundations, and that the Lord does not look so much as the magnitude of anything we do as at the love with which we do it. [15]

Well, it now seems the Lord doesn't want me to say any more, for I don't know what to say, although I thought of going on. The Lord has taught you and me the path that I have described. May the Lord be blessed and praised; from Him comes every good we speak of, think about, and do. Amen. [16]
St. Teresa of Jesus, pray for us!
*****
Please support Joy In Truth by sharing on social media.
[1] St. Teresa of Avila, The Way of Perfection (1577). Text prepared by Kieran Kavanaugh, OCD. Study Edition, ICS Publications, 1980.
[2] Ibid.
[3] St. Teresa of Avila, Interior Castle (1588), Translated and Edited by E. Allison Peers, Dover Thrift Editions, 1946.
[4] Ibid.
[5] St. Teresa of Avila, The Way of Perfection. Study Edition. Text prepared by Kieran Kavanaugh, OCD, ICS Publications, 1980.
[6] Ibid.
[7] ___, Interior Castle.
[8] ___, The Way of Perfection.
[9] Ibid.
[10] Ibid.
[11] St. Teresa of Avila, The Book of Her Foundations (1573), A Study Guide. Text prepared by Marc Foley, OCD, ICS Publications, 2011.
[12] Ibid.
[13] ___, Interior Castle.
[14] ___, The Way of Perfection.
[15] ___, Interior Castle.
[16] ___, The Way of Perfection.
Photo Credit: Relics of St. Teresa de Avila displayed at the Convent of San Jose in Seville, Spain. Relics include: original manuscript of the Interior Castle; the cape worn by her on the day of her death in Alba de Tormes in 1582; image of the Child Jesus that she called "the Lost Child". Painting: portrait of St. Teresa of Jesus when she visited Seville by Fr. Juan de la Miseria. Photo by MVF and CA. All rights reserved. Used with permission.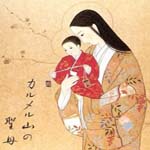 Virginia Fraguio is a Secular Discalced Carmelite. She holds a Master's Degree in Theological Studies and is currently pursuing a Master of Divinity at the University of St. Thomas at St. Mary's Seminary in Houston, TX. She is passionate about the truth, spreading the Catholic faith and spirituality, going on pilgrimages, and the international dimension of the Universal (Catholic) Church. Virginia was born in Argentina and grew up in Japan. After living in Brazil for some years, she was brought to the United States by her U.S. employer twelve years ago.