The Complementarity of Faith and Science: Answering the critique that faith and science are incompatible.
By Deacon Frederick Bartels
19 February 2017
It is not uncommon to perceive that faith and science are at war with each other—a mistake committed by people on both sides of the issue. Those who give the nod to science as the victor, often view it as the only truly profitable source of information. Consequently, what can be known empirically about physical reality through observation, testing, and experience is held as a valid source of knowledge, while other sources of knowledge, such as philosophy and theology, are relegated to the mist-laden realm of subjectivity. The virtue of faith, in this vein, becomes something suspect, lacking coherence and any degree of certainty. At best, it is a security blanket; at worst, it is a refusal to face reality.
When this view is stretched to its limit, it becomes scientism, which holds that only what can be empirically verified constitutes reality. It is an extreme and illogical yet not uncommon position. It is a biased belief system, an "incoherent faith," actually, because it is heavily prejudiced against other sources of knowledge which are built on the foundation of human reason—as is science itself. For example, we cannot speak of science apart from the human intellect, which is itself beyond empirical observation, and its indispensable role in the process of discovering what reality is. Scientism is, then, self-refuting: its empirical-only bias ultimately reduces empirical observation to meaningless, unknowable data. In absence of the immaterial human intellect, there would be no fields of scientific study.
Some Christians are unduly skeptical of science. This most often occurs in the areas of cosmology and various theories of evolution. The subject of evolution aside, strict creationists often reject the validity of the physical sciences in reference to cosmology because of their insistence that the world was immediately created by God a few thousand years ago—although the scientific evidence against that claim is exceedingly strong and well corroborated. Further, there is no biblical evidence in support of such a position: Sacred Scripture is not a science textbook; the intent of the sacred authors was not to communicate scientific theories or facts, but rather to communicate God's divine plan of salvation. The creation story in Genesis is not written to teach that the cosmos was created in six days; it was written to teach that God is the Creator. Arguing in favor of a young Earth from Scripture is like arguing that a geology textbook explains why God created the world. It is a mistake to think that science cannot come to any valid conclusions about the age and/or development of the universe, as it is also a mistake to try to mold scientific data to fit the creation story found in the Book of Genesis.
Both these errors, the former (scientism) which seeks to invalidate faith and theology, and the latter (creationism) which seeks to invalidate cosmology, are harmful to the development of the human person because each leaves out an important aspect of knowledge concerning reality itself. It is therefore manifestly false for Christians to indifferently reject science and its empirical knowledge gleaned from observation of the intelligible universe, as it is also for scientists to heedlessly reject faith in the Creator of the cosmos they study.
Learn what Catholics can believe about the theory of evolution.
The so-called incompatibility of faith and science is often driven by a failure to understand the distinctions, common ground and limitations inherent in each discipline. For the sake of clarification, let's compare and contrast natural science and the science of theology.
First of all, it is important to note that both of these are scientific disciplines: each has its own methods and order of inquiry; each is directed toward a specific end or goal. The former's methods of inquiry involve direct or indirect human observation, testing and experience of physical reality, such as the human body or the physical universe. Its goal is to gain knowledge and understanding of physical things. The physical sciences, then, involve a disciplined inquiry into the nature of physical phenomena.
On the other hand, theology's methods and order of inquiry involve a disciplined study of divine revelation; its end goal is to gain knowledge and understanding about the source of divine revelation: God. That is why theology is considered by St. Thomas Aquinas and others to be a sacred, divine science. Further, theology seeks to understand how all things relate to the divine faith which flows from God, such as the human person in consideration of his origin, dignity, purpose and destiny. Even such things as society fall within the realm of theology (see Vatican II's Gaudium et spes).
So, natural science and the divine science of theology are two knowledge-seeking paths of discovery: the former is a path of study directed at discovering knowledge of physical realities; the latter is a path of study directed at discovering knowledge of spiritual realities; especially the highest spiritual reality: God.
This brings us to the limits of these two sciences: natural science is limited to discovery of physical reality; therefore, it cannot make any definitive statements about God's existence or nonexistence. The spiritual reality of God is beyond its methods and its boundaries—although natural science can show evidence in favor of God's existence, such as the intelligibility of the cosmos and the natural order, which points to a transcendent, supernatural intelligence as responsible for the origin of physical reality. As is often said, God cannot be placed under a microscope or discovered by the collision of atomic particles. Thus it is pure nonsense to suggest that physical science has disproven the necessity or existence of God.
Similarly, theology has limits associated with its methods and subject of inquiry. As such, theology cannot tell us about the structure of the atom or the precise manner in which the physical universe developed and evolved, or the composition of stars, etc. Theology inquires into spiritual and divine realities; its object is God; it seeks to know and understand who God really is and his plan for humankind.
Note that, while these two sciences have their distinctions and limitations, they are not set in opposition to each other, provided each is properly understood. In his book, Faith, Science & Reason: Theology On The Cutting Edge, Dr. Christopher T. Baglow describes natural science and theology (faith seeking understanding) as "two love affairs that have powerfully shaped human history":
The first of these loves is the love of God and of spiritual realities, especially the deep devotion to those moments and truths through which God has manifested himself in our world. Above all, this is the love of Jesus Christ, the person who is true God and true man, who was and ever will be the full appearing of the supernatural in history. . . .

The second kind of love that touches and steers history as well as our individual lives is the love of nature. By nature we mean the visible, physical cosmos and everything in it, but especially the strange and marvelous phenomenon of living things, including the human species. (pp 2-3)
The divine science of theology and the physical sciences ultimately merge in the sense that theology studies God and the physical sciences study what was made by God, the divine Creator of the countless wonders and astonishing beauty found in the universe. While each has its own methods and order of inquiry, each is inherently dependent upon the light of human reason in searching out the truth, as St. John Paul II noted:
Faith and reason are like two wings on which the human spirit rises to the contemplation of truth: and God has placed in the human heart a desire to know the truth—in a word, to know himself—so that, by knowing and loving God, men and women may also come to the fullness of truth about themselves. (Fides et Ratio, Prologue)
John Paul II is emphasizing the complementarity of faith and reason. Faith builds on reason; it does not in any way subdue or restrict it. Theology applies the divinely given light of human reason to divine revelation in its method of inquiry into the mystery of God. And perhaps the mystery of God is precisely where much of the confusion lies in terms of the skepticism some people have toward theology as a scientific discipline. No sane theologian would claim to know everything about God. It is not possible to do so, since God is infinitely beyond comparison to any thing we can identify with the senses. Even language falls far short of the task of speaking about God. Nevertheless, it does not follow that we cannot know a great deal with precision and certainty about what God has himself revealed to humankind—and that is the goal of theology.
On the other hand, some Christians remain highly skeptical of the ability of the physical sciences to inquire into the physical world and make accurate statements about it. However, such an attitude betrays a failure to understand what it really means to say that God is the Creator. The universe is intelligible because it is created and ordered by the divine super-intellect: thus anyone with an intellect can investigate it, and, using the proper methods, discover what is really true about it. This means that science can indeed come to valid conclusions about physical reality apart from any kind of religious basis. Above it was stated that faith does not subdue reason; neither does reason subdue faith. While it is true that history discloses some incorrect assertions and errors made on both sides, faith and reason cannot ultimately be opposed:
Vatican I noted that "although faith is above reason, nevertheless, between faith and reason no true dissension can ever exist, since the same God, who reveals mysteries and infuses faith, has bestowed on the human soul the light of reason; moreover, God cannot deny Himself, nor ever contradict truth with truth" (Dei Filius).
Theology and science, faith and reason—these "great loves," deeply interwoven into human history, are integral to living in a fully human way and to the awe-inspired discovery of God and what he has made. They are not incompatible but rather complementary. Each is involved in a pursuit to know and understand what is really true, undertaken in childlike wonder of the sublime beauty of God and his creation, from whom all truth, goodness, and beauty proceed.
Photo attribution: Image modified. Original photo of Helix Nebula credit: ESO/VISTA/J. Emerson, wikimedia commons, Cristo crucificado, by Diego Velazques, wikimedia commons.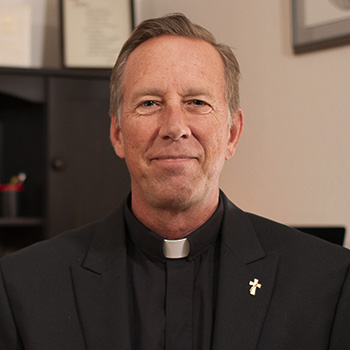 Deacon Frederick Bartels is a member of the Catholic clergy who serves the Church in the diocese of Pueblo. He holds an MA in Theology and Educational Ministry and is a Catholic educator, public speaker, and evangelist who strives to infuse culture with the saving principles of the gospel. For more, visit YouTube, iTunes and Google Play.