People Often Shape God Into a Projection of Their Own Ego.
By Deacon Frederick Bartels
22 November 2016
A common issue in today's society is the tendency to project one's wishes and desires onto an imagined God, which I term "The Ego-Project God." Everyone who engages in this project is entirely at home with the "god-of-his-own-making." It seems the comfortable place to be–but it won't last. At the root of this problem is moral relativism.
In his homily on April 18, 2005, Joseph Cardinal Ratzinger defined moral relativism as letting oneself be tossed around by "every wind of doctrine" (see Eph. 4:14), and noted that modern man is constructing a "dictatorship of relativism that does not recognize anything as definitive and whose ultimate goal consists solely of one's own ego and desires" (Ibid).
Then Cardinal Ratzinger clearly recognized not only the dangers of relativism, but its pervasiveness in contemporary culture. In fact, few people are untouched by it. But what is relativism, exactly? Relativism is often defined as a denial of objective truth. It's the idea that there is nothing absolutely true, which leads, practically speaking, to the notion that truth(s) can be shaped as desired, molded according to circumstances or intention, or discarded entirely if deemed to be burdensome in some way. Moreover, relativism has affected a variety of interconnected categories and disciplines to include morality, religion, philosophy and theology.
RELATIVISM: TRUE OF FALSE?
Can we easily show that relativism is false? Yes. The relativist makes this truth claim: "there is no absolute and objective truth." But such a claim is self-refuting: if nothing is objectively true, then the relativist's truth-claim is itself false.
Additionally, the above argument follows the law of non-contradiction, which states that something cannot both be and not be at the same time and in the same respect. Said another way, contradictory statements cannot both be true in the same sense at the same time. Relativism violates the law of non-contradiction. For example, if one person says, "Jesus is God," and another person says, "Jesus is only a man," both statements cannot be true. If Jesus is indeed God, then we had better learn as much as possible about him, including his deeds and words, and what he said of us!
As Ratzinger noted, moral relativism is ultimately about trying to bend reality into a construct of one's own wishes and desires. The moral relativist sees proposed objective moral truths as mere arbitrary, burdensome and unimportant laws that can be dismissed at will. More relevant are his particular opinions on a subject, which are always deemed valid, regardless of what others may think. The precepts of the natural moral law, God's divine revelation, the constant belief of the Church which is founded on divine revelation—these kinds of things are but subjective, vague abstractions that are incorrectly viewed as detrimental to one's own happiness.
AN ABUSE OF HUMAN FREEDOM
The idea of people thinking they can determine for themselves what constitutes reality may seem preposterous to the point of insanity, but that is in fact what people often do today.
Consider contemporary views that fall within the sphere of human sexuality, which involve the bulk of moral relativism. Same sex "marriage," or the use of artificial birth control or abortion or cohabitation or fornication, to name a few examples, are viewed as "choices people have a right to make." These grave moral disorders are held up as one possible "good" choice among others which, mistakenly, are thought to lead to happiness. But do they?
In abusing human freedom through disordered choices, what is truly good is forsaken for a mere apparent good, such as the true good of sex within the context of marriage as opposed to the apparent good of sex outside of marriage which is fornication and leads to spiritual death through the destruction of one's relationship with God (cf. 1 Cor. 6:9). Simply put, bad choices lead away from God and to an ultimate loss of happiness. Within the confines of moral relativism, freedom becomes an absolute which is exercised without reference to God and what is authentically good, and thus becomes opposed to human dignity to the detriment of the human person who, ontologically, is created in goodness and truth, in God's image and likeness.
In voluntarily choosing in a disordered way, the person sets up a split within the very core of his being. Rather than living in ontological oneness with the truth of his being and in harmony with the loving plan of God, he is intentionally choosing against the truth and goodness of his person, battling against his better self by following his sinful will. He becomes self-estranged, alienated from the truth of his being, from God and from others. He begins to see himself as a morally autonomous being and therefore becomes enslaved by his passions. Fleeting material possessions and physical pleasures become the focus upon which his freedom is directed. Consequently, he has lost a great deal of his freedom through his own fault (Roch Kereszty, Jesus Christ: Fundamentals of Christology, 331-336).
THE EGO-PROJECT GOD
If, for the relativist, morality lacks objective truth, God will be viewed in the same way. God, then, becomes a kind of "ego-project." The relativist will project the desires of his own ego onto God, shaping God into some-imagined-thing that coheres with his particular beliefs. For example, the ego-projected God may be seen as a permissive "Divine Grandfather of Love" who makes little if any moral demands on people. The use of the human sexual faculty is of no concern to this kind of god, with the exception of perhaps pedophilia or rape. If one is kind to others, a "nice" and "fair" person, as it is said, who does not rob banks or commit murder, he is living in a way that aligns with what this ego-projected god wants and will attain heaven.
These kinds of false views spread from person to person in society through the media and other social mediums, and thus foster the spread of grave moral evils. That is the danger of relativism and the "ego-project God." As a result, the moral and religious views of a significant number of teens and young adults in America have shifted away from Christian tradition in favor of a new religion with virtually no demands and no consequences. For more information on this topic, I suggest reading Christian Smith's essay on "Moralistic, Therapeutic Deism" and his findings after interviewing more than 3000 American adolescents.
MORALITY: MORE THAN MERE LAWS AND PROHIBITIONS
Some people think morality is all about following rules, laws, proscriptions and prohibitions. Such a view was first posited by William of Ockham (1285-1347), and marked a significant and erroneous shift in moral thinking. He saw freedom as a neutral power that could just as easily choose good or evil unless it was constrained by some type of external limitation. This view was rooted in the idea that freedom preceded both intellect and will, and thus was a kind of instinctual power or movement disconnected from the human faculties of reason and will. It fostered a dissociation between the ontological truth of the person and the inherent gift of freedom.
However, human freedom is rooted in the ontological truth of the human person, who is created in God's image and likeness, and who has received the power to make free, ordered and reasoned choices from God himself. The being of the human person, an organic body/soul unity, is permeated by truth and goodness, and is ordered toward living in harmony with the same.
Consequently, the Church Fathers to St. Thomas Aquinas approached morality from the perspective of man attaining his ultimate happiness in God. This is accomplished by living in harmony with the truth of the human person, human dignity, and the loving plan of God. Their morality took as its primary source Scripture, with an emphasis on the Beatitudes (see Mt. chapter 5). The Beatitudes, given during Christ's first sermon, are promises of blessedness (eternal happiness) for those who live in a particular way, directing their lives in accordance with God's plan and in harmony with choices that are authentically good and which lead to lasting happiness.
Relativism is a bad apple, it's the rotten fruit of eating the forbidden fruit. In my next essay, we'll discuss how to become an anti-relativist (in a good sense!) by living according to what is really true, directing one's life by a morality of happiness approach. Everyone wants to be happy! No one argues against that, not even the staunch relativist. It may come as a surprise, but there is a specific and definite way to attain the desire of your heart.
Christ's peace.
*****
Please consider helping to maintain this site with a donation.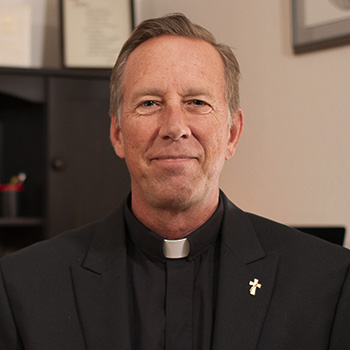 Deacon Frederick Bartels is a member of the Catholic clergy who serves the Church in the diocese of Pueblo. He holds an MA in Theology and Educational Ministry and is a Catholic educator, public speaker, and evangelist who strives to infuse culture with the saving principles of the gospel. For more, visit YouTube, iTunes and Google Play.