Someone once said that the great danger to Christians is not failure but success at things that don't really matter. You may know all about botany, music, art, history, aerodynamics, math, electronics, politics, hobbies and so forth, but what do you know about God? Are you a successful Christian?
By Deacon Frederick Bartels
22 February 2014
Do you thirst to drink deeply of the divine wellspring of Christ; is the illumination of the Holy Spirit your ardent desire; do you crave the everlasting and delightful sweetness of the Holy Trinity? Do your eyes long for the heavenly Light above all other lights?
It is a sad aspect of contemporary society that many people focus on the mundane with persistence and diligence, but when asked about what they know of God, a blank look crosses their face. Further, there's the notion that the study of divine, heavenly realities is really rather pointless because, after all, everybody "believes whatever they want." Where is the truth about these things? Where is the truth about God and his divine revelation?
If God loves you, and if you are his child, does not he desire for you to truly know him? Would not your Father want you to hear the truth about himself? If your Father sent his only Son to die for you, would not his Son lead you to the full truth about God? That is what the Father has done for you, and that is what the Son also does for you through his Spirit.
It is ridiculous, my friends, to entertain the notion even for a moment that God does not make the truth of his divine revelation available to everyone in its fullness and with certainty. A Father does not hide his truth from his children; nor does our Lord Jesus Christ wish that his words of life and truth remain unknown, unclear, uncertain, diluted or distorted among his friends. The Holy Spirit does not first say this and then say that. Christ died to bring us the truth. How do we find it, listen to it, hear it?
It is available, my friends, in the words of truth transmitted by the Catholic Church who dates to the apostles and to Christ himself: the Bride of Christ whose words speak the mind of Christ, and whose voice makes the saving Gospel available to the world. It is through the Church that we hear the words of truth and life. It is in believing the Church that we are introduced to Truth Itself, our Lord Jesus Christ, the Divine and Human Person who is Truth, Life and Love.
Christ's peace.
*****
Please help maintain this site with a donation.
Photo Credit: Ben Rosett, https://unsplash.com/@spiritvisionstudio.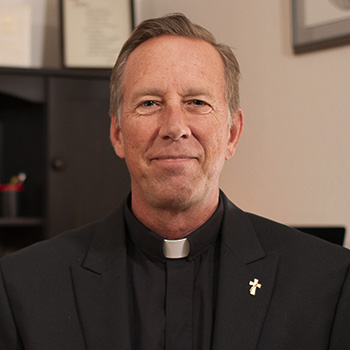 Deacon Frederick Bartels is a member of the Catholic clergy who serves the Church in the diocese of Pueblo. He holds an MA in Theology and Educational Ministry and is a Catholic educator, public speaker, and evangelist who strives to infuse culture with the saving principles of the gospel. For more, visit YouTube, iTunes and Google Play.