In the weeks leading up to Christmas, known as the season of Advent, we will give lots of gifts. Gifts to our co-workers, family, friends and even strangers. Giving freely is something God calls us to do and brings us great joy.
By Lauren Heaton
2 December 2017
As we bustle about buying and wrapping presents, I want to encourage us all to pray about how we can give heavenly gifts to those around us. Gifts that give glory to God. What I mean, is how can we give the peace, hope, and love of Christ to those around us? God our good Father wants to give us such wonderful gifts, perhaps this season we can strive to be his little helpers, similar to the elves that help Santa out each year.
For the next four weeks, we are going to focus on some of the gifts Christ has already bestowed on us and how we can offer these as gifts more valuable than anything under our Christmas trees. This week's focus is giving the peace of Christ.
"My Peace I leave you, my peace I give to you. Not as the world gives do I give it to you" – John 14:27
Jesus gives his apostles HIS peace, a peace so heavenly and pure. When we experience it, we know deep in our souls it is something truly from God.
Note that Jesus specifically says he gives in a way that is not like this world. Meaning he gives without expecting anything in return, no strings attached, and this gift is never-ending. He is giving his peace to his friends the apostles with open hands, freely choosing to give to them out of love.
"Peace be with you! As the Father sent me, so I send you" – John 20:21.
Just as Christ gave his peace to the apostles, we ought to be extending his peace to those around us. We can do this in a variety of ways. We can spread his peace by praying for our loved ones to experience this heavenly peace. We can be intentional about spending time with others by turning off phones and distractions, allowing ourselves to be fully in the moment, not worrying about the future or the latest on social media.
The truth of the matter is if we are intentional in how we live out our daily tasks, we can extend Christ's peace through every single action we take.   St. Therese of Lisiuex said, "to live in love is to sail forever, spreading seeds of joy and peace in hearts."
So live in the love of Christ, brothers and sisters, and spread his peace freely about, like sprinkles on your Christmas cookies.
*****
Please support Joy In Truth by sharing posts on your social media. The share buttons make it fast and easy!
Please support Joy In Truth with a tip!
Photo Credit: Lauren Heaton. Produced for Joy In Truth and used with permission. All rights reserved.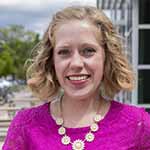 Lauren is a young Catholic professional working in the marketing industry. She loves working with high schoolers and leads a high school youth group. She is also passionate about leading a young women's bible study, is on the leadership team for West Denver 2:42 a young adult ministry and sings at her church. Lauren is a modest fashion enthusiast, pancake connoisseur, promoter of faith and fitness, and lover of all things family oriented.