Catholicism is a most excellent, healthy and fulfilling way of life. It is the way to happiness in Christ. Let us not forget that Christ died for his Church in order for his words of truth and sacraments of life to be passed on to all future generations, which makes the Church and her words of truth necessary. Lent, then, should be a time of sacred immersion into the heart of holy mother Church that we may be drawn more deeply into the heart of Christ.
By Deacon Frederick Bartels
18 March 2015
In Second Maccabees (7:1 ff.) we find the story of the arrest and subsequent torture of seven brothers and their mother, whose only crime was a refusal to eat the flesh of swine. One might ask, why would anyone choose a torturous death over the simple act of eating a portion of meat? However, the riveting story of these men and their mother, and the principles for which they sacrificed their lives is about far more than the mere consumption of animal flesh.
As Second Maccabees narrates (6:1-2), this event came about as a result of the king's intention to force the "Jews to forsake the laws of their fathers and cease to live by the laws of God," and to "pollute the temple in Jerusalem" by way of making it into a house of idolatry. What was at stake here? Everything: a war had begun in which evil sought to destroy good: a bloody and merciless engagement that had as its goal to crush God's people, to annihilate even the notion of God the Creator held in the hearts and minds of the Jews. The wages of this battle were not merely a person's life, but the life-way of an entire community, a holy culture and way of living that did not originate merely from the well of human tradition but as a product of God's divine intervention into the history of the people Israel.
For the Jews involved in this bloody war over the truth about God, their answers, their words and deeds poured out in witness to the truth and in free and loving obedience to the law, were given not simply as a means to receive reward, but uttered from human hearts yearning for Goodness Itself: God.
Faced with extreme torture, one of the brothers replied, "[W]e are ready to die rather than transgress the laws of our fathers" (7:2). As the brutality proceeded in horrendous fashion, the brothers spoke words reflecting hope in the promise of the resurrection, God's unfailing compassion and concern for his people, and trust in divine providence and goodness.
But what does all this have to do with Lent? Everything.
Lent is a sacred season in the liturgical year in which we strive to reorient our lives to Christ. It is a time of interior reflection and of raising mind and heart to God in prayer; it is a period of fasting and penance in which we are, in a sense, purified and made ready to enter into the heavenly wedding feast of the Easter resurrection; it is a succession of forty days in which the thirst of our hearts is to be amplified in the desert; it is a season of almsgiving that both helps to join us in solidarity with our brothers and sisters in need and provide for those needs. It is a time to die to self that self may open to God.
Lent is a season of conviction, dedication, and commitment.
As beautiful and spiritually productive as all these Lenten practices are, they may have, however, little effect. It is not uncommon to find Catholics whose inner spark of love for Christ and his Church, one that should flare into a wildly burning fire, is all but extinguished. Their gifted faith has not yet ignited the heart; nor has it radiated outward to infuse society with the message of God's love and salvation offered in Christ. This can often, of course, be the case even with Catholics who attend the Sunday eucharistic celebration regularly.
Perhaps these questions get to the root of the issue: am I in love with Christ and his Church to the point of experiencing a willingness to give my life for it? Do I feel the same burning desire and conviction as did the seven brothers and their mother?
People speak about a dynamic, life-changing encounter with Christ. That encounter sets one on a new course for a new horizon. While one might reject it through the use of free will, this powerful experience of divine love normally moves a person to such a great extent that there is no turning back because he would never desire to do such a thing. The buried treasure has been found; there is a new heavenly light penetrating life; a new day has dawned.
This failed spark of which I speak is unfortunate. I believe everyone would like to change that: every person desires perfect happiness: to be transformed, remade and reinvigorated. Who does not want to live a new, other-worldly life, infused with the burning and loving experience of God, radiating authentic, divinely given joy?
The question remains: what is to be done? What steps can a person take? How can my love for God be increased and thus burn with the same intensity as did the seven brothers and their mother?
Here we could speak about many things. But I want to leave you with one: You cannot love Whom you do not know.
You must make it your mission to learn the Catholic faith, immerse yourself in the teaching of the Church because it is the words of Christ; live the Catholic life fully in the heart of the Church because it is the home God has willed for your salvation; immerse yourself in the lives of the saints; plunge into the Catechism; read about ancient philosophers who sought the ultimate goal of humanity, and so forth. To know the Catholic faith more thoroughly is to know God more thoroughly. You must not think you can satisfy this need for knowledge simply by listening to homilies on Sunday. As important as they are, they are not enough.
This is the goal: to know God as he really is. That is why the Son of God, the eternal Word, became flesh: That men would know God's love and come to share in God's own divine nature (see CCC 460).
Read more about Lent and growing closer to Christ.
Catholicism is a most excellent, healthy and fulfilling way of life. It is the way to happiness in Christ. Of course, everything begins with God's free gift of faith and grace. Nevertheless, let us not forget that Christ died for his Church in order for his words of truth and sacraments of life to be passed on to all future generations, which makes the Church and her words of truth necessary!
Would you like to experience the same burning love for God and truth as did the seven brothers and their mother? We have much more in our time to die for, for we have received the fullness of divine revelation in the Son of God who became man and died for humanity.
For the seven brothers and their mother, it was not about a set of prescribed laws to follow. It was about a love stronger than death.
That type of love is the goal of Lent.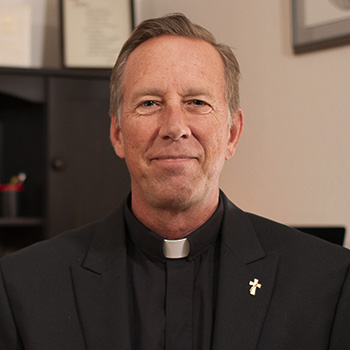 Deacon Frederick Bartels is a member of the Catholic clergy who serves the Church in the diocese of Pueblo. He holds an MA in Theology and Educational Ministry and is a Catholic educator, public speaker, and evangelist who strives to infuse culture with the saving principles of the gospel. For more, visit YouTube, iTunes and Google Play.