The root of our problem is found in expecting to get more than we wish to give. It's an attitude in which one person seeks to use others for his own personal gain. Yet this desire is at the foundation of our ways of being. It is the simplest meaning of the word "Profit," which is simply getting more than what we gave.
By Joy Joseph
13 October 2018
There is a belief that "The love of money is the root of all evil." This is stated explicitly in the Bible (1 Tim 6:10).
However, when you ponder how the same Bible teaches that evil fell upon the first man and woman created in Paradise, you want to consider what love of money they could have held? If the love of money is genuinely the root of all evil, then what was money for Adam and Eve?
And then you consider the thought that, loving the notion of getting more than you give is really the root of all our problems and you begin to comprehend it.
What I say further is not to offer a new teaching different from the Catechism of the Catholic Church, but it is to amplify and express an understanding in a different way, specifically to make sense of and to make applicable the verse, "The love of money is the root of all evil," in the case of Adam and Eve, applying it to the context of our lives today.
Eve was confronted with choice of remaining with what was received freely or doing a little to get exponentially more. Money replaces physical effort in the modern context, and the love of money is the love of the least effort.
The more money you possess the less your own efforts, or the more things you can get done without your own effort. You can fill your barns with grain and put up your feet and do nothing, but as our Lord said, you will die that very night (Lk 12:18-20). The love of money, therefore, is really the love of least effort for maximum gain.
Just do this and you will be like God (see Gen 3:5), was the temptation accepted by Eve and then Adam, a temptation that consisted in the desire to elevate themselves above God. When Adam and Eve failed, their sin of disobedience caused a deprivation of grace and a corresponding disfigurement of human nature in all their posterity. All their descendants—all of humanity—now suffers the negative effects of original sin.
We are wounded beings not because we are unable to differentiate between right and wrong (which too many of us have difficulty with). We are corrupt, in a sense, because we find it difficult to differentiate between good, lesser good (or an apparent good which is itself sinful), and a greater good.
There is a hierarchy of things and everything is good when it is correctly used in its proper place according to God's loving plan for the created order. It becomes bad or wrong when it is used in a disordered way and thus used in a way that is, you might say, out of place.
Only good exists positively, yet all things good is in a hierarchical order. Evil is the lack of good, the lack of love, the lack of expressing God's love to others. Corruption is the disorder of good and evil thrives in such disorder.
We are corrupt because we have broken the order and continue to blatantly do so. We are blind, in a sense, because the order of things is obscured to us as a result of sin. We are naked and poor because we have replaced good with the lack of good (Rev 3:17).
Our Lord, Jesus Christ, counsels us to "Buy" from Him "Pure Gold" (Rev 3:18).
What can a naked, blind, poor man possess to buy pure gold? Does it not seem illogical that those who are poor are asked to buy pure gold? To us it would seem logical that someone might give us pure gold in order to go and buy what we need. And yet our God counsels us to BUY pure Gold from Him. We are going to get more from God than we are giving.
God created man with this idea, this notion and principle that from Him we would always get more than we give. In fact, the gift of love we receive from God is freely given by God.
God also created us in His own image and this meant that, when we were to interact with the world that He placed us in charge of, like Him we were to give more than we expected to get. Indeed that we were to give with no expectation of getting (cf. Lk 6:35).
This is the order man changed to get more than we could give from God and give more than we would get to fellow men and all other things visible. We live therefore in the "world" when we expect to get more than we give. We are in the Kingdom of God when we give with no expectation of getting. This is exemplified in the biblical principle of self-gift and self-sacrifice for others.
The modern concept of WIIFM (What's in it for me?) comes from the throne of corruption. It is the single largest contributor to removing love from relationships and making us creatures of transaction: "you scratch my back I'll scratch yours."
Our corruption is visible in the way we have misused what was designed and created and given freely to us.
Thus the root of all evil, the root of all our problems, is our love for getting more than we give.
Oddly enough the fanatics have turned things completely on their head and, throughout history and even now, attempt to use God as a means for providing financial wealth and thus gain power over others.
They amplify the verse which teaches that "… men of depraved mind who are devoid of the truth. These men regard godliness as a means of gain" (1 Tim 6:5).
So if we are designed to get freely from God why are we being counseled to "Buy"?
I will leave you to contemplate on this thought and will share my perspective in the blog following this.
God bless.
*****
Photo Credit: Free use photo from pixabay.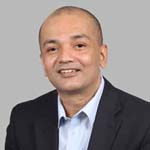 Joy Joseph is a Life Coach and a Family Business Facilitator from Kochi, Kerala, India. He specializes in Human Behaviour and Relationships. He founded his own enterprise "The You Tomorrow" in November 2011. He is married, and together with his wife Anu they have 5 children, 3 boys and two girls. Joseph is 54 years of age. He is a motivational speaker. Visit his website to learn more about him.