 What is a truly Catholic way to love? What does it mean to love? And how is loving others connected, even dependent upon, communicating the teaching of the Church on faith and morals? Is it loving to remain silent and look the other way while someone engages in destructive behavior?
By Julia Miller
21 April 2020
When you think about how you love those around you, what comes to mind? Maybe you make dinner for your parents once in a while, give advice to a younger sibling, visit your grandma, cheer up a friend, but do you ever love people by calling them to a higher standard?
In today's society, we often view love as a way to support someone or show our appreciation for them. But, for a Catholic, love should be all of these things and more. Our love should drive those around us to Heaven. That's truly Catholic love. There are many different Greek terms for the different types of love; one of these is agape, meaning that one wills the best for another. This type of love is the main means by which we may draw others closer to God.
We often want to support those around us, so when we see them making bad decisions, we might not intervene because we don't want to affect their perceived happiness, normal activities, or coping mechanisms. But, it is not love to sit back and let someone make destructive decisions. 
Now, maybe you know your friend sees certain teachings of the faith as confining or as a stumbling block to their desire for happiness. Maybe you don't see your friend pursuing the truth of the faith, and you feel you shouldn't impose your own beliefs on others, so you let things slide. But, I am challenging you to have those difficult conversations with your friends. If you notice behavior that does not align with Church teaching, have a genuine conversation with them.
Of course, I'm not asking you to judge the person subjectively, as in attempting to judge the state of their soul, since only God has that power. However, the Catechism reminds us that we are called by Christ to make objective judgments about actions and to obstruct the sins of others when we have an obligation and opportunity to do so (CCC 1868).
Additionally, the virtue of charity requires the gift of truth to others because of its eternal benefit to their souls. Recall the words of our Lord Jesus Christ:
If you continue in my word, you are truly my disciples, and you will know the truth, and the truth will make you free.

John 8:31-32
If the truth of our faith is what saves us, how can we withhold that from others? Those around you may not see their behavior as destructive or they may not know the true teachings of the Church. This is why I would caution against reprimanding them for their actions, but talk to them about why they made the decisions they did. Talk to them about the difference between the true and unending happiness found in God alone, and fleeting pleasures that soon come to an end. Have an honest and mature discussion about how bad choices end in bad consequences.
Difficult conversations are often the most fruitful because they leave both parties to reflect on the truth of the matter. A simple plea for reflection can go a long way. Pray for their soul and pray God will use you as an instrument in the situation. Love plays big a part in these conversations. If you didn't truly love them, why would you be trying to call them to a higher standard? A loving correction can open eyes and change someone's life.
Although it may feel awkward correcting someone in the faith, remember that as a Catholic we proclaim truth. These "rules" from the Catholic religion are truly freeing. The teachings of the Church are rooted in Tradition; they help us see the human condition and freely choose to be a child of God. Ultimately, these teachings save our souls because they call us to God in a difficult, but very fruitful, way. In other words, living an upright moral life in free and loving obedience to the commandments is connected to attaining salvation, as the Lord Jesus said:
If a man loves me, he will keep my word, and my Father will love him, and we will come to him and make our home with him. He who does not love me does not keep my words; and the word which you hear is not mine but the Father's who sent me.

John 14:23-24
As Catholics, we should proclaim truth without hesitation with the goal of turning hearts to God.
Show your love by having that difficult conversation, it may save a soul.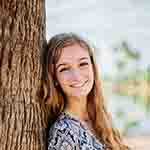 Julia is a student at The University of Dallas studying theology. She will also pursue a Master's Degree in secondary education from the university. She hopes to one day become a high school religion teacher in order to spread the faith to the youth of America. She has been blessed to receive a Catholic education and cannot wait to aid others in receiving the same gift!